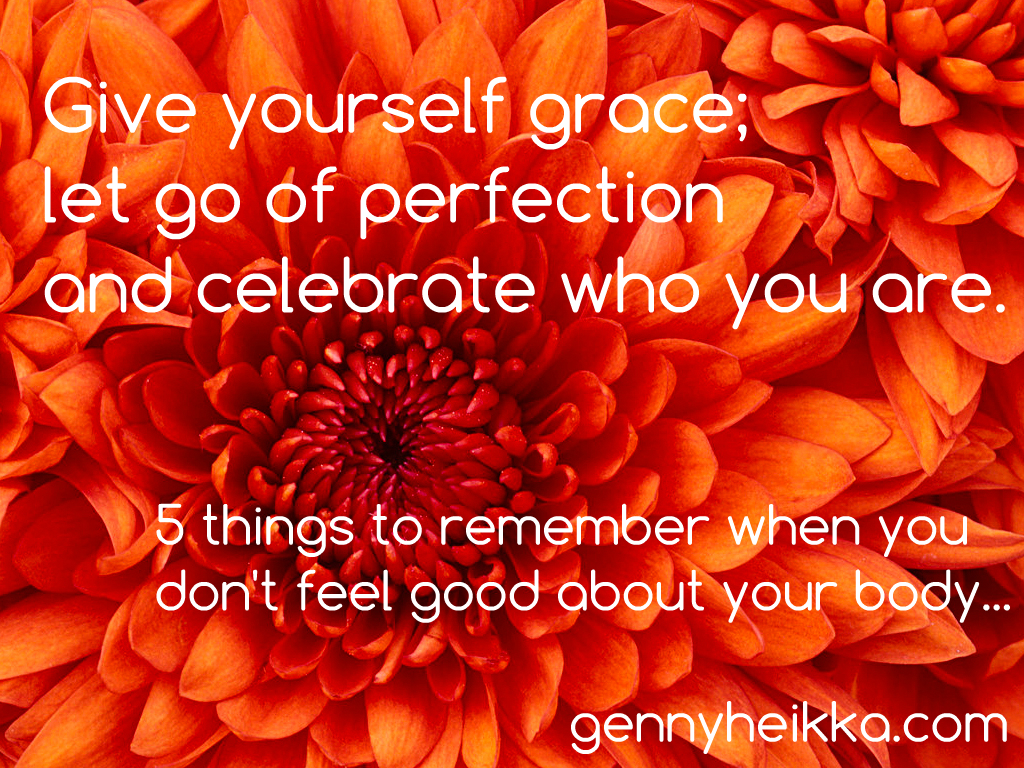 When you don't feel good about your body: 5 things to remember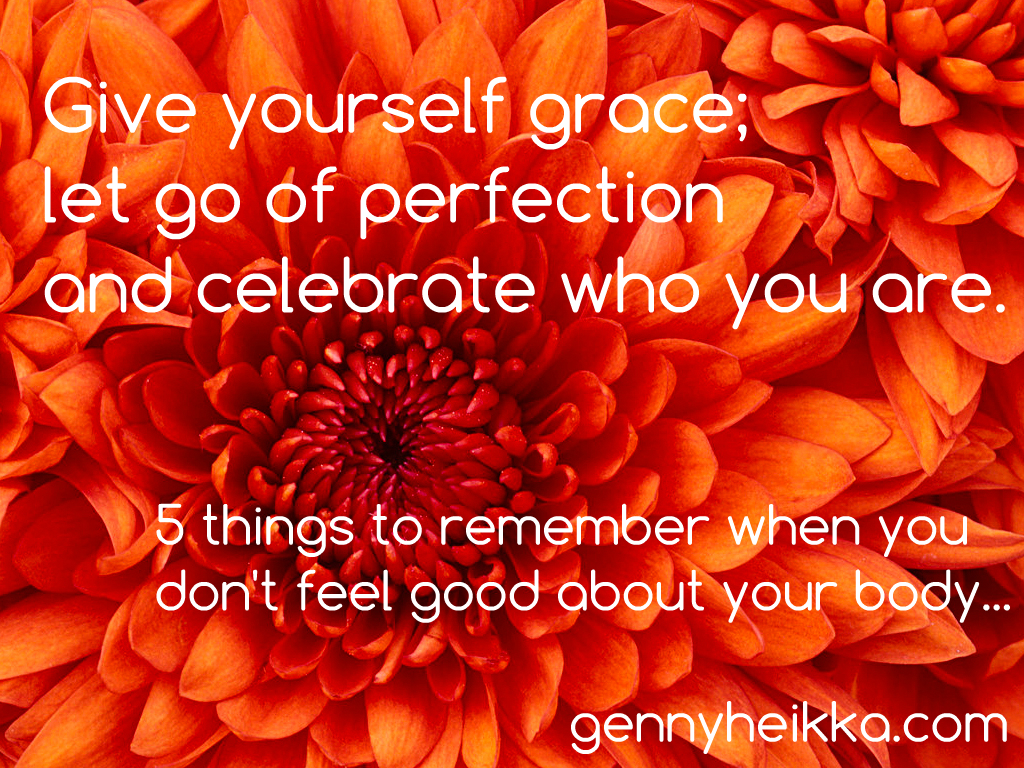 In my work with moms and women, I've had countless conversations about how we often struggle with our self-image. We look in the mirror and instead of appreciating our unique qualities, the negative self-talk begins. As someone who has struggled too, I know how it is to battle these feelings, and even obsessions. But there are things we can do to develop an attitude of love and respect for our bodies, instead of criticism. So the next time you aren't feeling good about your body, remember:
Your body has been good to you. Be thankful. Even if you aren't in perfect health, there are many things about your body you can be grateful for. It performs highly complex, miraculous functions, day in and day out. You're amazing, whether you realize it or not. Think about the fact that your heart never rests, your brain works continuously, your digestive tract serves you non-stop… I could go on and on. Have compassion for those legs and arms that have worked so loyally for you over the years. Be thankful to be alive, for the health you have (even if certain things aren't running perfectly), and for the body that is uniquely yours.
You are not alone. If you don't feel like your size, shape or body function is ideal right now, join the many who share those feelings, and know you're not alone. I'm not saying throw your goal to be healthier out the window; just don't beat yourself up anymore. If you want to make improvements—in your health, your fitness routine, your nutrition, your energy, your perspective—you can still move forward even if you didn't make progress today. We all struggle with body image in some way at some point in our lives; don't be so hard on yourself. Talk to a friend about your feelings, and encourage each other to stay positive. Sometimes, just knowing that someone else feels the same way you do makes all the difference.
Kindness conquers. It affects you when you talk to yourself negatively. We say unkind things to ourselves that we would never say to another person. We get frustrated. We get discouraged. We even get mean. It would hurt somebody else's feelings if you talked to them like that, so don't underestimate the power of your own words to yourself. The next time you start thinking a negative thought about yourself, stop that thought in its tracks and replace it with something positive and kind.
There is no perfect. Don't compare yourself to the magazines, TV, and internet. That's not real life. And don't compare yourself to others either. You are you. There's no one else like you; get excited about that and find ways to identify and celebrate your uniqueness. If you find yourself falling into the trap of comparing, take action to reset. It's not a one-time step; it's an ongoing awareness and intention. Maybe you need to get off the internet, stop watching that show, get out of that social group, or immerse yourself in positive influences that will help you see your own strengths. (Read Brene Brown's The Gifts of Imperfection.) There's nothing wrong with wanting to improve your body, but it becomes unhealthy when it's a comparing game, negative or obsessive.
You're more than your body. Give yourself grace; let go of perfection and rest in who you are. You're much more than your physical body–more than just skin and organs and bones and a brain. You have a soul. Your mind works in amazing ways (we as humans even have the unique ability to think about what we are thinking about). Don't tie your identity to what you look like; your appearance is just a small piece of the puzzle. The more compassion and grace you give yourself, the more you'll be freed from the desire to be perfect, and the more you'll be able to discover your true identity (your purpose, your passion, and why you're here). And when you live from that authentic perspective, you'll feel more beautiful, inside and out.
Spiritual nugget:  If you're struggling with your body image, don't go it alone. Reach out to others and share what you're going through. Seek help and resources if the struggle has become dominant in your life. (Some resources to check out are listed at the end of this previous post). And remember the power of prayer and God's love; you don't have to try to fix things all on your own. I'll never forget those years in college when I secretly struggled with my self image and food, and how when I read Matthew 6:25-34 for the first time, something deep inside me began to heal. The verses are about not worrying, and they spoke directly to my heart at the time. It gave me such hope to know that God saw me, He knew what I needed, and I could stop worrying. I just needed to focus on Him, instead of my worries and myself. And that changed everything…
"Therefore I tell you, do not worry about your life, what you will eat or drink; or about your body, what you will wear. Is not life more than food, and the body more than clothes? Look at the birds of the air; they do not sow or reap or store away in barns, and yet your heavenly Father feeds them. Are you not much more valuable than they? Can any one of you by worrying add a single hour to your life? And why do you worry about clothes? See how the flowers of the field grow. They do not labor or spin. Yet I tell you that not even Solomon in all his splendor was dressed like one of these. If that is how God clothes the grass of the field, which is here today and tomorrow is thrown into the fire, will he not much more clothe you—you of little faith? So do not worry, saying, 'What shall we eat?' or 'What shall we drink?' or 'What shall we wear?' For the pagans run after all these things, and your heavenly Father knows that you need them. But seek first his kingdom and his righteousness, and all these things will be given to you as well. Therefore do not worry about tomorrow, for tomorrow will worry about itself. Each day has enough trouble of its own. –Matthew 6:25-34