"Genny inspires audiences large and small with her authentic, engaging, and relatable style."
"Genny is fun and entertaining, but more than that, she has a heart to help women be the best they can be. She's so real, sharing both her triumphs and failures from her own life, and she is an encouragement! I wish we could have her speak every time we meet." 
-Amy Cherry, MOPS   
"Genny is sensational! From the prep work in getting to know her audience, to the planning and logistics of our time with her and the delivery of her messages… she was tremendous! Our team thought she was as authentic as they come: sharing deep insights into personal branding using anecdotes from her own life! Genny brings a ray of light, positivity, hope, and foundational knowledge to a room filled with leaders at every level." 
-Jenn Pressner-Taylor, Marketing Director, Texas Roadhouse 
"Genny's talk was the highlight of our year! Many of our women thought this was our best meeting of the year and that they need to hear this talk every month. All of our women were able to come away with things they could do to improve their lives. Genny's ability to relate to our situations touched everyone!" 
Lisa Sietsema, Finance Coordinator, Vacaville, California
Some of Genny's requested speaking topics include:
-The Power of Your Personal Brand
-How to Live Your Purpose With Passion
-Leadership & Success: It Starts With YOU
-Becoming a Transformational Leader
-Mentors & Sponsorship: Why You Need Both and How They Help You Succeed
-Soaring to New Heights: How to Pursue Your Dreams
*Genny also customizes talks and presentations for your group and event.
Events & Audiences
Genny speaks at a variety of events, from business and leadership conferences to universities, corporate training sessions and community gatherings. Her personal branding workshops are customized specifically for your team or organization, and as a keynote speaker, she's shared motivating messages with corporate, non-profit, community, volunteer, and ministry audiences.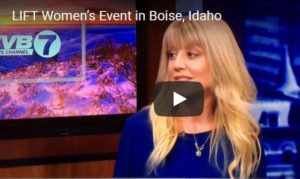 See Media page for more videos. And if you're a ministry organization, download Genny's Ministry Speaking One Sheet.