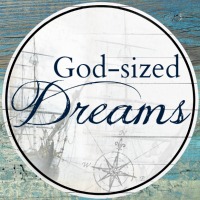 How to pursue your dreams… every day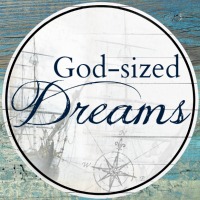 "I can tell you this, on your God-sized dreams journey… You will feel fear. You will fail at some point. And you may even find that you have to let a dream go. But I can also tell you…You will become more courageous." – Holley Gerth from her book You're Made for a God-Sized Dream
I love that quote from Holley. Not because it promises all good things and instant success (obviously, it doesn't), but because it's true. With fear and failure and letting some things go, courage does come.
And, when you have courage where you didn't before, and you start to say yes when you used to say no, doors open and your life takes a new path.
You also experience opportunities and victories you never thought possible.
It's hard to believe it's been a year since I first read Holley's blog post inviting women to apply to be part of her God-Sized Dream Team. I remember when I read it, I stopped and reflected… what is my God-sized dream?
And then I started writing. (In case you missed what I wrote in my application, you can read it here.)
After I sent it in, I smiled. It was almost like I realized for the first time how God has been shaping me the past several years–patiently steering me away from my idea of what my life should look like, and growing the passions in my heart to lead me to what I'm supposed to be doing. It hasn't been easy, but I love the journey I've been on (the stops, starts, failures, and all) and I love how I'm still learning to let my own agenda go.
Even now–a year later–I'm reminded that moving forward to pursue dreams sometimes means not trying so hard, and instead just being open and willing… and brave.
Sometimes I think we look at the years ahead and wonder what we should do with them. But when we pause and consider that maybe it's not entirely up to us, that maybe we're part of a bigger plan, that maybe we were put here for a specific purpose, it changes our perspective. And it makes us more open to new possibilities, instead of trying to figure everything out on our own.
This God-Sized Dream journey has been an amazing one, filled with new friendships, new opportunities, dreams fulfilled, and new dreams sparked. And you know what? It's a journey that doesn't have an end.
I look at some of the things I have coming up–a book launch, a keynote speech in Florida, two teenagers in the house by February (when my youngest turns 13!), and I'll be honest–if I think too long and too hard about any of that, I feel unsure… Will my book do well? Will my keynote be inspiring? Will I be the parent they need? 
But then I remember… courage.
And I remember the advice of my good friend Jenny Williamson: to, "Move forward even if you're knees are knocking!"
I also think about the times in my life I have moved forward, and how, when I leaned on God and looked to Him (instead of myself), I've been blown away by what He did with each circumstance. (It was always way more than I could've done on my own.)
With the end of 2013 here and the start of a new year right around the corner, I encourage you to take a step towards following your God-Sized Dream, if you haven't already. Like Holley says, it can be scary and there will be failure, but don't let that hold you back.
With each step you take, your courage will build.
And as your courage builds, you will see more opportunities to take more steps.
And the next thing you know, you won't be wishing you were pursuing your dreams anymore.
You'll be pursuing them every day, simply in the way that you live. :)

Want more God-Sized Dream inspiration? Stop by the new and beautiful God Sized Dreams – Where Dreams Set Sail site, launching today! Inspired by Holley's life-impacting book, and created by one of the amazing women on the God-Sized Dream team, Christine Wright, I know the site will encourage and inspire you!