Failure Can Be Sweet
I attended a writing conference last weekend and was inspired by talking with the Kirby Larson, Newberry award winning author of the incredible book Hattie Big Sky.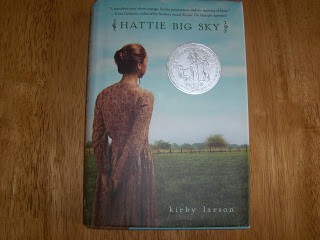 Kirby's writing, and her own story about her path to success, made me even more determined to stay focused on my goals. And after the privilege of having coffee with her after the conference, and talking a little about my own writing journey, I realized just how much my perspective has changed since I first began writing…
It can take years to get a book published?
Hundreds of rejection letters?
No kidding?
Well, not me.
One year, tops. That's what I'll give it.
I have to be honest; that was my thought process when I first started writing. I had quit my career at Hewlett-Packard to stay home with my daughter, and reading books to her during her first couple of years made me realize I wanted to be a children's author.
After hearing Shelia Walsh speak at a conference and being inspired to start writing, I couldn't get my ideas on paper quickly enough.
I sent my manuscripts out to publishers, and waited excitedly for the book contract that I was sure would come.
Several rejection letters later, my one year deadline came and went.
That was years ago.
And though the journey of writing has had its stops  and starts (and fair share of disappointment, and, okay, maybe even heartache) it has been so fulfilling to be able to do what I love, balancing writing into slivers of time between diapers and bottles, preschool and naps, sports and homework.
After years of what could be looked at as failure (no book contracts), I've realized how much I've learned.
I've learned the true meaning of perseverance and what it's like to keep going, even when the odds seem to be against you.
I've learned to find time for my passion, even when there isn't time to be found.
I've learned that 50 rejection letters isn't many.
I've learned that 100 rejection letters isn't many.
I've learned how to pick myself up and dust myself off after disappointment. And I've learned that I'm a lot tougher than I thought.
I've learned to appreciate the accomplishment of other writers, because I know the hard work that goes before the glory.
And I've learned that something good really can come out of something bad. Like the time I got a two-page rejection letter on my middle grade novel when I first sent it to a publisher. I opened the envelope with trembling hands, went into the pantry (the only place I could go and not be interrupted), and cried. But once I got past the emotion of it, I realized the letter was like gold–it contained valuable suggestions for revisions from a top editor, and it was those revisions that helped to make the story what it is now.
Sure, I wouldn't have minded getting a book contract during that first year. Or the second year, or the third… (you get the point).
But, I have to say, standing where I am today and looking back over this whole process, I can honestly be grateful for the failure I've experienced.
Without it, success wouldn't taste as sweet.
Without it, when my kids face disappointment, like not making the swim team or not winning a game, I wouldn't be able to say, "I know how that feels," and really mean it.
I wouldn't be able to tell them, "Never give up," and know that I'm setting an example.
And I've come to realize that, whatever the dream, the process of getting there can be just as important as the end result.
And that, believe it or not, failure actually can be sweet.
So if you're working toward a goal and it's taking longer than you thought, or you keep hitting a wall, hang in there.
Hang in there and let's enjoy the journey together.