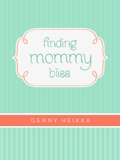 An update on Finding Mommy Bliss
In case you didn't see my blog post a while ago, I wanted to share with you that I got a book contract from Hallway Publishing over the summer and they plan to release Finding Mommy Bliss in hardcover in May, 2014–just before Mother's Day.
I'm really excited about the timing and will be forming a book launch team a few months before it comes out. (I'll be posting more details in the future so if you have a heart for moms or if you just want to get the book before anyone else, stay tuned. It's going to be a lot of fun, and a great way for moms to come together!)
In the meantime, I wanted to update you on the shorter edition of Finding Mommy Bliss that's already available in the Snippet reading app.
I've gotten some questions about Snippet, like, "Can I download it on Kindle?" or, "Is it available on Amazon?" so I wanted to clarify a few things…
Finding Mommy Bliss is available right now for reading on iPhones and iPads. The Snippet app is free and provides a new, multimedia reading experience that is really amazing (so in Finding Mommy Bliss, along with the text you will see videos of me, audio clips, photos, and a way to interact directly in twitter). To learn more, you can stop by https://thesnippetapp.com/
If you haven't downloaded Finding Mommy Bliss in Snippet yet and want to, here's how:
Step 1: Download the FREE "Snippet App" on your iPad or iPhone from the App Store here: www.appstore.com/snippetapp
Step 2: Scroll down in the Snippet store to the Finding Mommy Bliss cover and tap the cover image to see the description.
Step 3: Click "Buy Now" to buy and download my book for $1.99 onto your Snippet Library, where you can enjoy it wherever you want.
If you've already downloaded my Finding Mommy Bliss Snippet, thank you! And if you've enjoyed it and want to rate it, there's a new "like" feature you can use in Snippet as well. Just swipe the book cover in the Snippet library and click the heart to like it, or continue to the very last page of the Snippet after you read it, and the heart is there too.
Thank you all for your emails, comments, and support during this exciting time! It's been fun sharing my journey with you. I'll keep you posted about timing and updates in my newsletter, on my blog, and on Facebook and twitter. Looking forward to all that's ahead!