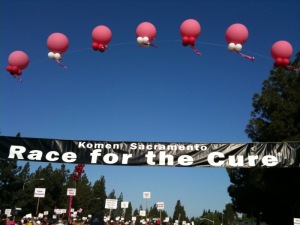 In Honor of Breast Cancer Awareness, and Two Amazing Women
In honor of Breast Cancer Awareness month, I wanted to put up a post to send love to one of my best friends, Lisa, and my mother-in-law Carolyn, who are both amazing women, and breast cancer survivors!
Lisa is amazing, is eight years cancer free, and just ran a half marathon a couple weeks ago with a team of other survivors. If you've been reading here a while, you might remember that she's my friend who first showed me the original Pink Glove Dance Video… and was in the sequel!
She's the one with brown hair, wearing jeans and a pink and white tie-dyed shirt, skipping in a circle with another girl by the water in the video. It's near the end of the clip and she's on the right side of the video. (Can you tell I don't want you to miss her?)
Check out the video; you'll be glad you did; it's so inspiring and I guarantee it will leave you with a smile on your face!
You rock, Lisa! Love you!