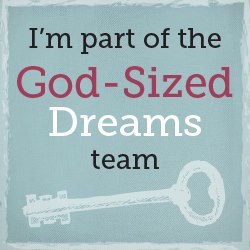 A letter to the God-sized dreamers…
If the first thing you think of when you see that title is "this letter isn't for me"… wait.
It is.
Because whether you feel like you're a God-sized dreamer or not,
you are.
It doesn't matter if you're doing "big" things in your life.
It doesn't matter if you're crystal clear about the goals you're pursuing.
It doesn't matter if you're "accomplishing,"
and "achieving,"
and "winning"…
Those things don't matter.
Because, like my friend Holley says:
A God-sized dream isn't about what you do as much as how you do it. It's about pursuing life with passion, purpose, and going with God wherever he leads.
In fact, the dreams that God plants deep in your heart often lead you to the very things you never dreamed you could do, with more passion and purpose than you ever knew you had.
(As long as you are open to His leading.)
And when you are,
And when He does,
Wow.
Life changes, and things shift, and purpose rains, and love spills.
And you realize that His dreams for you…
are way bigger than yours could ever be.
So go.
Follow Him,
and find your dreams. :)
I invite you to go get Holley's book You Were Made for a God-Sized Dream: Opening the Door to All God Has For You (it is SO good!) and open your own door to the possibilities ahead!
More posts on pursuing dreams:
About my dream of being a writer