Genny is fueled by a passion to help others reach their full potential. She's a published author and active speaker who has mentored and coached women from all walks of life. Her parenting book Finding Mommy Bliss received praise from the San Francisco Book Review and has helped moms of all ages reduce stress and chaos in parenting — and find more happiness.
Genny has appeared on radio and TV and has been published in multiple publications, including Lifetime Moms, Mamapedia, and a variety of magazines and anthologies. She holds an MBA, has served as the Director of Communications for Courage Worldwide, and is the co-founder of LIFT: Live Inspired, Fearless, Thriving, which hosts events and workshops that help women gather in community and live out their purpose. She also holds a Certificate in Christian Apologetics and enjoys talking with people about life's big questions. Her communication, marketing and leadership experience spans corporate, non-profit and ministry organizations.
An active speaker and mentor, Genny has coached many women.
In addition to her book for moms, Genny has written six children's books and has worked with many aspiring writers to help them find success and reach their writing goals. She co-hosted the Part-Time Author Podcast and served as Assistant Regional Advisor for the Society of Children's Book Writers and Illustrators in California for eight years. She currently teaches as Adjunct Faculty in the business department of a local college.
Genny lives in Idaho and loves spending time with her husband Mike and their two (amazing) teenagers, Katie and Luke. She is enthusiastic about the outdoors and walking along the beautiful Boise green belt, as well as being involved in her Treasure Valley community.
(Okay, now that we've gotten the formal bio out of the way, read the everyday stuff in 17 Things below.)
How I Got Started Writing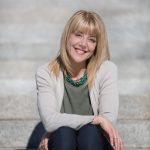 I sat there at a conference listening to a speaker talk about a woman who told her she wished she could be a writer.
When I heard that, my heart stirred.
Because I wanted to be a writer, too.
In elementary school, I entered my poems in poetry contests. I wrote stories that got published in an anthology my school district printed. And in high school, my favorite classes had to do with literature and writing.
So how was it that years later, sitting at that conference, I found myself so far away from what I loved?
After getting my MBA, working at HP for several years, then making the decision to be a stay-at-home mom (a decision I've never regretted), I felt a new tug on my heart. The distance from the corporate world and the time I spent reading children's books to my kids had reawakened my passion for writing.
I dreamed of writing a book–I wanted to make a difference in the world–but having been away from it for so long, my dream seemed far off.
As that speaker talked about the woman who dreamed the same thing, I sat on the edge of my seat. And when she shared her response, it struck me…
Just start, she said. Whether it's five minutes a day, or ten. Just start writing. And then you are a writer.
It was one of the most freeing things I'd heard. I didn't have to long to be a writer. Or dream of it. I didn't have to imagine what it would be like or worry that I'd already missed my chance.
All I had to do was start.
And so I did.
In between diapers and potty training and play dates, between preschool and doctor appointments and swim lessons, I researched and read… and started to write. Sometimes I wrote ten minutes a day because that's all I had. Sometimes, on days when the kids took long naps, I wrote more.
It wasn't easy.
(But nothing worthwhile is.)
Years later, after many rejection letters, and after signing my first book contracts, I'm more thankful than ever that I started.
And by walking through that door, other doors have opened…
Every once in a while, as I focused my writing in the children's genre, an idea for a parenting article would pop into my head. I'd get on the computer, type it out, and file it away, not sure if I'd ever do anything with it. Then, as my kids grew and I got more involved in mentor programs for moms and parenting organizations, and as I began to read more parenting magazines and books, I felt a strong pull on my heart to dig those articles out. And when a friend with website experience recommended I start a blog and post my writings there, (and after a little encouragement from Mike), I did.
My blog began with a few parenting stories and articles, but when I saw the response and how so many moms were finding connection and support online, I jumped in with both feet.
I loved sharing with other moms. When we share like that, we realize we aren't alone. We aren't the only ones who've ever longed for a dream to come true. We aren't the only ones who've gone through a dark time. We aren't the only ones who've ever felt frustrated by parenting, or who have picky eaters, kids that fight, or a house that's a mess.
We're all in this together, and by sharing our stories, we come to know that,
and each other.
And that's the best part.
Oh, and about making a difference in the world? I still hope to do that through my writing and speaking, but even more importantly, I've learned that the things I do as a mom and the time I spend with my kids every day does make a difference.
In the lives of my kids, and in the world.
17 Things About Me – the everyday stuff
1. I love coffee.
2. One of my greatest thrills is seeing people overcome their fears and reach their full potential. We all have unique gifts, and there's nothing like stepping bravely into your passion and calling (even if your knees are knocking!). And when you do that, you realize it's not about you anyway; it's about the gifts you have to offer others.
3. My husband Mike and I were high school sweethearts and I'm still madly in love with him! (That's us holding hands in the photo at the top of this page.)
4. A couple years ago, we moved with our two teenagers from California to Idaho because my husband's job got transferred. What started out as a journey filled with unknowns and what ifs turned out to be one of the best things that ever happened to us.
5. I love being a mom. Love, love, love.
6. I have a daughter who's getting ready to leave for college and I'm dreading the day she goes! Whoever said that teenagers were impossible was wrong. They're totally and completely glorious. And I'm serious. :)
7. My favorite seasons are spring and fall because I love change.
8. I love helping women explore what they believe and why. I hold a certificate in Apologetics from Biola University and enjoy talking to women from all walks of life about life's deep questions.
9. I'm a certified volunteer for Courage Worldwide, an incredible non-profit that helps rescue girls who have been victims of trafficking. When I lived in California, I had the privilege of being the Director of Communications for this amazing organization.
10. My least favorite thing? Heights. (I'm pretty sure it has something to do with the fact that I fell down a steep cliff over whitewater when I was a little girl. It all ended up fine, but still. Heights just aren't my thing.)
11. We have pets. Plenty of them. My teenage son has a gift with animals… so we have a lot — a dog, a cat, two birds, a hermit crab, and a ton of fish (by last count, we were up to four fish tanks). I always say when we go on vacation that it costs us more to cover pet sitting than it does to travel, and I'm not kidding!
12. Understanding how much God loves me totally changed my life over twenty years ago. There's been no turning back.
3. I've never played sports. Instead, I grew up dancing–doing ballet, tap, and jazz all the way through college and I loved it!
14. I love coffee.
15. I laugh a lot.
16. I'm passionate about encouraging people to become lifelong learners, develop their leadership abilities, and go for their dreams (one of the reasons I've written so many blog posts in this category!).
17. I love coffee! :)