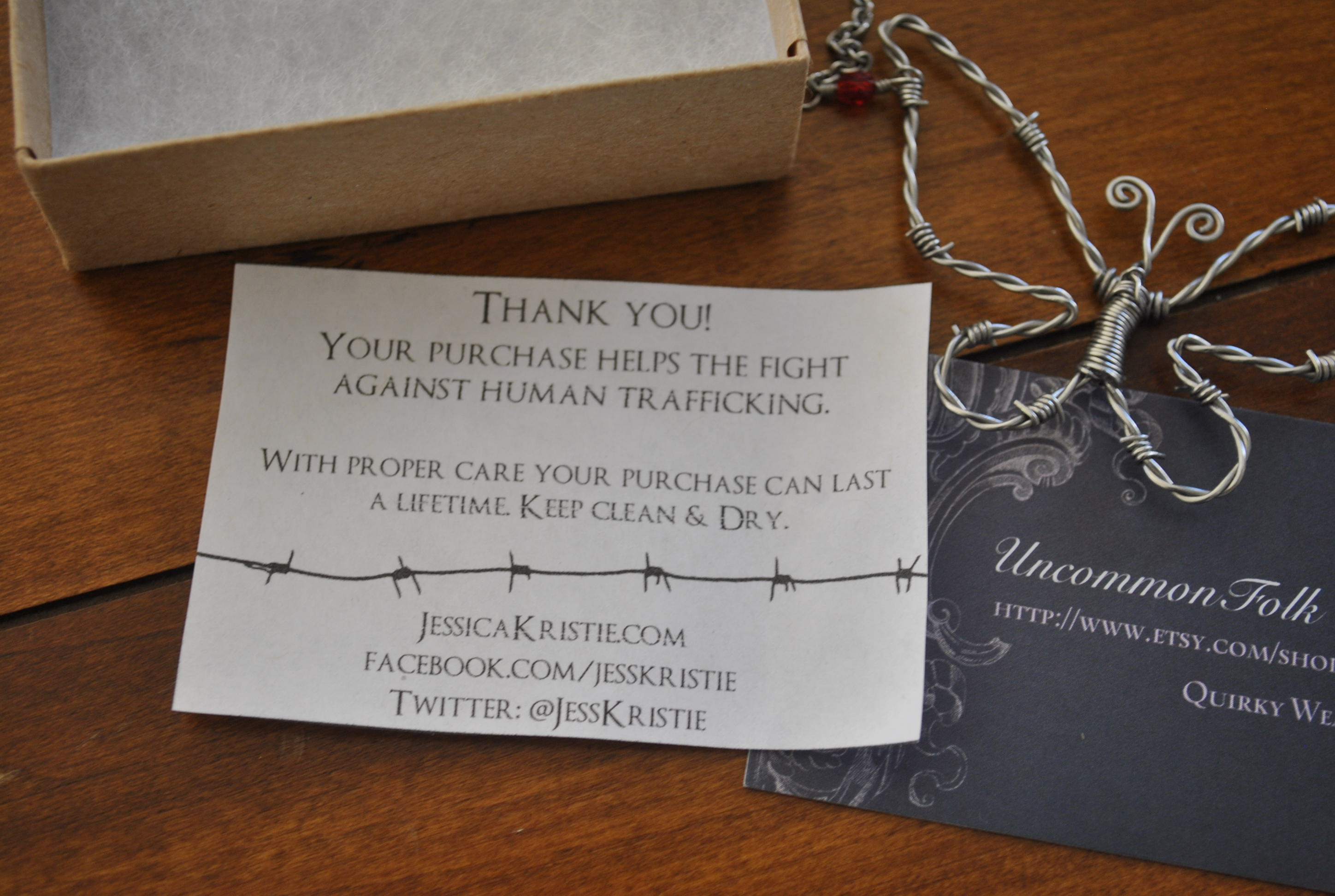 Barbed Wire Butterflies
I got a package not too long ago in the mail–a small, manila envelope.
Not remembering if I had ordered anything, I was curious about what was inside.
I opened the envelope and pulled out a securely wrapped bundle of bubble wrap.
Gently, I pulled apart the wrapping.
Inside was a small, brown box with a thin, black string tied delicately around it.
I became even more curious.
It wasn't until I opened the box and saw what was inside: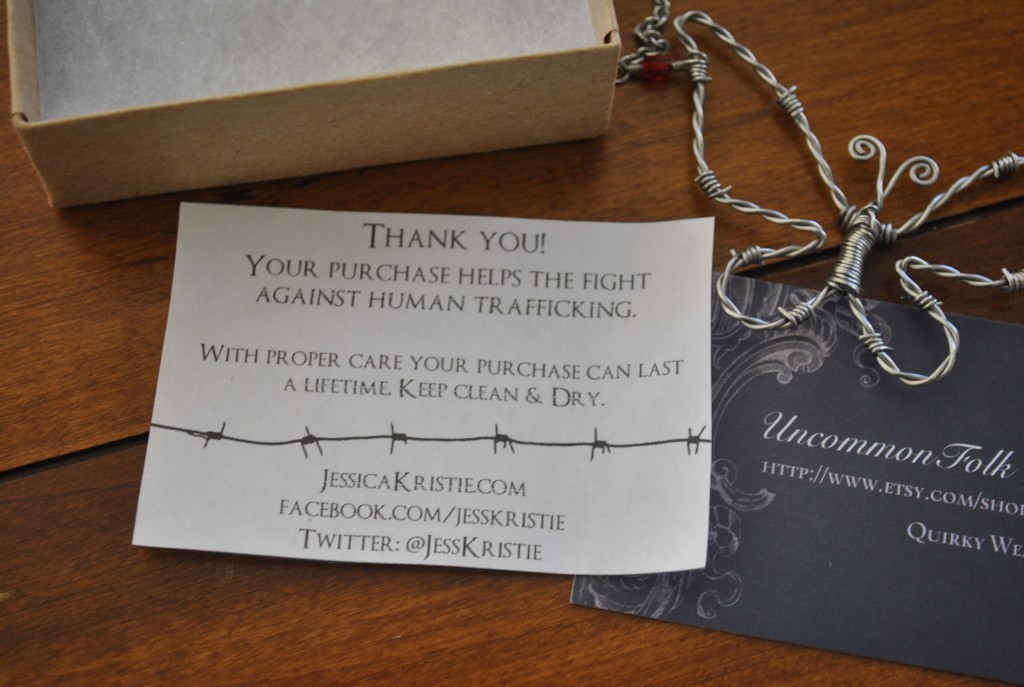 that I remembered I had ordered this beautiful piece: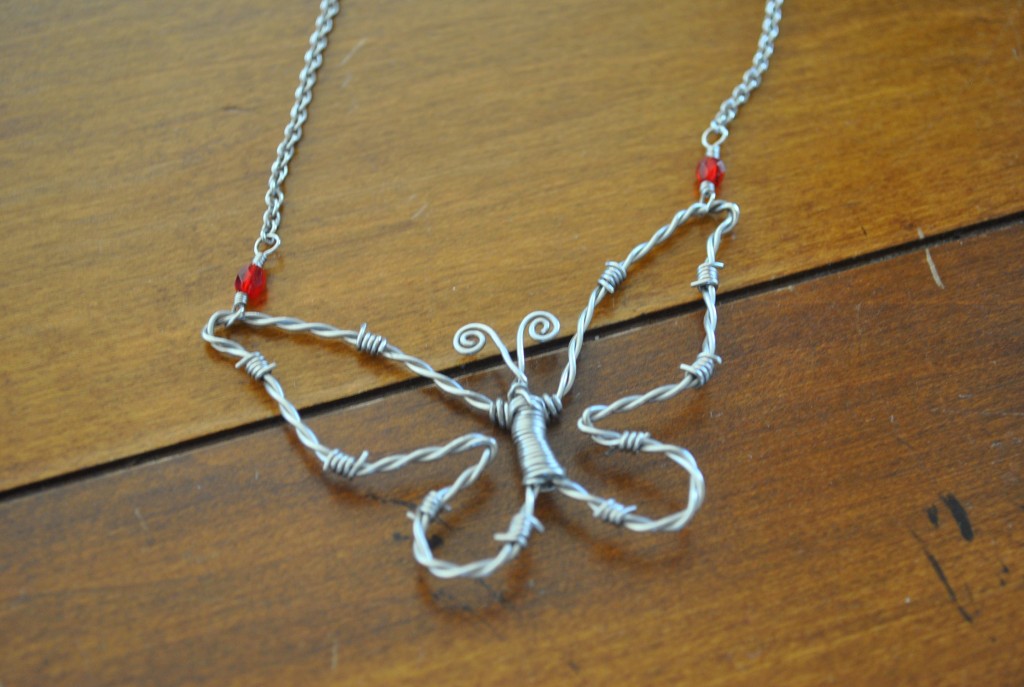 It is a beautiful butterfly necklace, handmade by Divine Hammer of Uncommon Folk for Author Jessica Kristie, to go along with Jessica's upcoming novel Barbed Wire Butterflies — a story about a young girl's journey of survival after getting abducted into a life of trafficking.
I was touched how, after researching the issue of human trafficking for her book, Jessica said,
"I cannot un-know what I have learned and I still struggle to grasp the enormity of what I've read. The stories seeped inside and grabbed hold quickly. They have all stayed with me. Feeling so very called to this subject, I am dedicating myself to this extremely important issue."
(If you've been here a while, you know how much I relate to her comment and how once you hear the stories of trafficking victims… you can't not care.)
Jessica's response? One-hundred percent of her print royalties and a percentage of her digital copies and merchandise (including her Butterfly Necklace) will go to Courage Worldwide – a non-profit that is building homes for children rescued out of sex trafficking.
To me, the necklace is a perfect representation of the horror of trafficking (barbed wire), and the hope of survival (butterfly). I have worn mine often and it has opened many doors for me to share about trafficking and about the countless children who are victims of this crime.
If you want to help impact the issue of trafficking and get your own Butterfly necklace or matching broach, be sure to visit Jessica's merchandise page.
You can also read about her upcoming novel, Barbed Wire Butterflies, and subscribe to her advocacy page.
Thank you Jessica for raising awareness and helping children who have been victims of trafficking!
*This is not a paid post or advertisement in any way. I did not receive a free necklace or anything else in exchange for this post. I simply want to spread the word about Jessica's work and how you can help make a difference too!
*To find out more about Courage Worldwide click here, and how I got involved in the issue of trafficking, click here.