Do you have the Courage to Be You?
Do you have the courage to be you?
That is the question my friend Jenny Williamson asks readers in her new book, and it's a question that changed her life and set her on a journey of discovering her, "water-walking, giant-slaying, history-making destiny."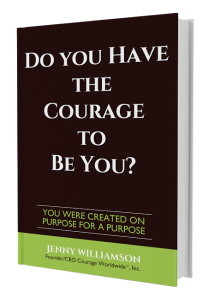 I'm so excited to share Jenny's book with you today. If you've been around here a while, you've heard me talk about her and the non-profit she started–Courage Worldwide–many times. She's an amazing woman and it's an amazing organization that has changed the lives of many young girls rescued out of trafficking.
In Jenny's book, she not only talks about her journey of finding purpose and starting Courage Worldwide, she challenges readers with an invigorating thought: each of us has something we were put here to do, and if we don't do it, it won't get done. I love how she shares her personal story of going from feeling completely ordinary on her 40th birthday to discovering her true identity and taking action that changed her life and the lives of many others. She doesn't just tell readers what to do to find purpose; she shares her experiences and shows how she found her own courage and voice – a voice that now speaks on behalf of girls all over the world. 
In her book, Jenny outlines what thought patterns or belief systems keep you from being you and what challenges must sometimes be faced. One of my favorite parts in the book is where Jenny's adopted daughter Liz shares her heart, helping readers to understand how one person's courage can literally change the life of another. Jenny's passion jumps off the page and her contagious enthusiasm will inspire you.
And in true Jenny fashion (she doesn't just talk the talk, she walks the walk), 50% of all proceeds from the sale of her book will be donated to Courage Worldwide. I encourage you to get yourself a copy and change not only your life, but the lives of young girls who have been victims of trafficking!
To give you more of a glimpse inside the book–and Jenny's heart–here are a few questions and answers from one of her interviews:
1. What inspired the title of your book – Do you have the courage to be you?  It was a very personal question that was whispered to my heart around my 40th birthday. At the time, my life was good, but I was restless. I was wondering why I was on this planet and if I had a unique purpose – besides that of a wife and a mom. I had worked at different jobs, but nothing where I felt like I was making a true impact or difference in this world – and that is what I longed to do. The question that is the title of my book intrigued and challenged me. Why would I need courage to be me? I wondered. My life was safe, secure and comfortable – which I thought was good at the time. That question gave me the courage to step out of my comfort zone to go on a journey that led me to children who were being trafficked and who needed a home and a family – so I built them one. Now I have dedicated my life to helping them find their unique purpose. As my life grew more meaningful, I wanted everyone who crossed my path to find their water walking, giant slaying, history making destiny – so I wrote the book!
2. There are many self-help books out there – what makes yours different?  I'm a storyteller at heart so I use my story to encourage others, but at the same time I offer concrete steps and tangible resources that will accelerate a journey of purpose. My adopted daughter Liz writes the foreword and last chapter to help people understand how urgent it is that they find the courage to be and do all they were created for… because someone is waiting. Someone needs you to find the courage to be you. Liz explains if I had not gone in search of my destiny – she might not be alive today. I stress in the book that quitting isn't an option. I am one of the most ordinary individuals on the planet, but I now have proof that I was created on purpose for a purpose – a purpose that impacted, and still impacts, others. This book isn't a feel good book; it is a kick you in the butt and get you moving book!
3. What are you passionate about? Everything! But, really, the thing that excites me the most – the thing I am most passionate about – is YOU finding your unique purpose.
4. Tell us more about Courage Worldwide. The purpose of Courage Worldwide is to help people find their own purpose, so the needs of the marginalized in the world can be met. Right now, we have an organizational focus on children who have been trafficked. We believe they too have a unique purpose and, by providing them with a home and helping them on a journey of healing, they will be able to find that purpose. Our homes are called Courage Houses and we currently have one in Northern California and one in Tanzania, with plans to open one in every city around the world that needs one.
For more information on Jenny go to jennytwilliamson.com, and for information on her organization, go to courageworldwide.org
More about Jenny: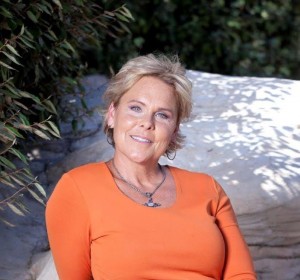 Jenny Williamson is the Founder and CEO of Courage Worldwide, an international, non-profit organization that builds homes for children rescued out of sex trafficking around the world. For her efforts and impact, she has received numerous awards. She resides in Northern California with her family. She was recently honored as a top 10 nominee in L'Oreal's Women of Worth campaign.