And I held on tight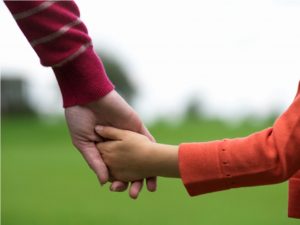 I stood there in my daughter's fifth-grade classroom at open house night, looking at all the things she's made throughout the year…
the life-sized human body, the history timelines, the intricate drawings of plant and animal cells…
and it hit me all over again how much older she's getting.
Middle school, I thought, almost not believing it.
She'll be in middle school next year.
Another parent who hadn't seen my daughter in a while came up to us. "She's gotten so tall," she said.
I nodded. "I know."
We passed other kids on the way out and I thought the same thing… they were all taller than I remembered. More mature, too.
It's here, I realized.
She's growing up.
It's here.
We walked across the playground to leave the school. I watched my daughter as she ran ahead, and I thought…
I hope she knows, as she gets older, that she can come to me with anything.
My mind sped to the teenage years that are just around the corner…
I hope she stands up to peer pressure. And I hope she knows that, even when she makes mistakes–because we all do–I'll still love her.
I thought about high school, and college, and the dreams my daughter has,
wanting more than anything for her to achieve those dreams,
wanting her to enjoy the journey along the way.
We left the playground and headed through the park toward our house. All around us, other families walked home too. Kids rode their bikes and played. Laughter filled the air.
"Come on, Mommy," my daughter called, motioning for me to hurry. I jogged to catch up, still thinking…
Even if we hit bumps in the road as she gets older, I hope I can be patient. And fair.
I hope we always have a good relationship.
I hope…
And that's when I felt something…
her hand–not tiny anymore like it used to be, but still small, still young–slipping into mine.
I looked at her and smiled.
She smiled back, unaware of the thoughts racing through my mind.
We crossed the street like that,
holding hands,
and when we got to the other side, she pulled me toward the sidewalk and squeezed my fingers.
I squeezed back
and I held on tight…