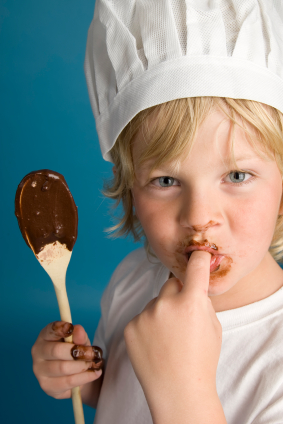 An Easy Way to Make Cookies Healthier
I've mentioned before that I love to bake. In fact, you can usually find a fresh batch of cookies or brownies around our house at all times.
We love sweets.
But that's okay.
Because, a while ago, I tried something with my cookie recipe that really works.
I use 1/2 cup of butter instead of one,
egg whites instead of whole eggs,
rice flour instead of white flour,
1 1/2 cups of chocolate chips instead of two,
and all organic ingredients.
Even though the cookies are healthier (less fat, less cholesterol, less sugar, and the rice flour is gluten-free), they taste great. The texture is a little different because of the rice flour, but even my kids love them and believe me, they can be picky eaters.
I could be biased, but I don't think you can even tell that the cookies are "healthy"…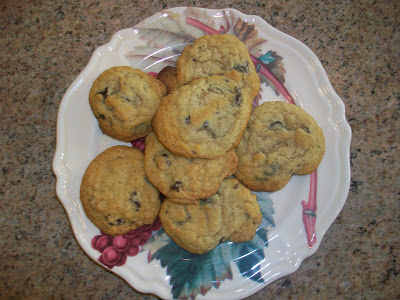 And since I just baked some, I thought I'd join Kristen in What Works for Me Wednesday and share the recipe, because these cookies really work for my family.
In fact, I baked three sheets of them Monday night and now there are only eight cookies left.
Oh, wait.
Maybe eating the whole batch in two days cancels out the fact that they are healthier.
(At least I'm pretty sure you'll like them!)
(Healthier) Chocolate Chip Cookies
1/2 cup butter
2 egg whites
1 tsp vanilla
3/4 cup granulated sugar
3/4 cup brown sugar
1/4 tsp salt

*whip these ingredients together in your mixer until creamy then add:
1 tsp baking soda
2 1/4 cups rice flour
1 1/2 cups chocolate chips
Spoon dough on cookie sheet and bake at 350 degrees for about 6-7 minutes.
Give them a try. They even satisfy chocolate cravings. :)