Bedtime prayers and sandwiches?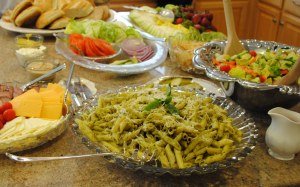 I know I'm not the most talented cook in the world, but I do make a mean sandwich.
Just ask my husband.
I've been making them for him since we were in high school together. My parents had a family business when I was growing up, and we had delis in a couple of the stores.
You name it, I can make it… hot pastrami, French dip, turkey and avocado, salami with the works…
But don't ask my son about the salami sandwiches.
Because apparently he won't agree that they're any good.
The other night when we were saying bedtime prayers together, this is what he said:
"Dear God,
Thank you for my mom and dad and sister and Spot and Blackberry and everything else. Please help Lady up in Heaven. And please don't have my mom make that kind of sandwich in my lunch ever again.
Amen."
I'm joining in with Rocks in My Dryer's Works-for-Me-Wednesday, because saying bedtime prayers with my kids is something that works for me.
Just like when they write on their whiteboards, it gives me a glimpse into their hearts.
And I love being able to hear what they're thinking, or hoping for.
Even if it's just that they don't want me to make them salami sandwiches anymore. :)