Creating A Family Tradition With The Red Plate
Years ago, my mother-in-law gave us this beautiful red plate as a gift.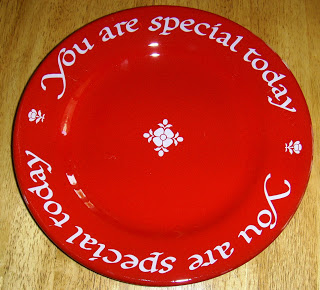 Apparently, among some early American families, when someone deserved special acknowledgement, it was tradition to serve them dinner on The Red Plate.

I loved the idea and, right away, Mike and I started using the plate for birthdays.
Then one time I decided to set it out when he got a promotion so we could celebrate.
And on Father's Day.
And on our anniversary.
When our kids were no longer babies, we started using The Red Plate for them too… for birthdays…preschool graduations…the first day of school.

This year, on Mike's birthday, the kids and I surprised him and set his place for breakfast before he came downstairs.
My daughter got a nice placemat, my son climbed up on the counter and got one of our fancy water glasses , and I set out the good silverware.
"Get The Red Plate, Mommy!" they reminded me.

They were excited.
Because, for them, the plate doesn't just represent something to eat on. It represents tradition.
And making someone feel special.
And family memories.
We even have two Red Plates now–one for our son, and one for our daughter.
So that, many years from now, when our kids move out, I'll be able to pack those plates up, wrap them securely in tissue, and send one off with each of them.
And when I do, I'll probably cry, remembering all the times we've used the plates, and all the memories they represent.
But mostly, I think I'll be happy, thinking about the day my kids might decide to unwrap the tissue and start building family traditions of their own. :)