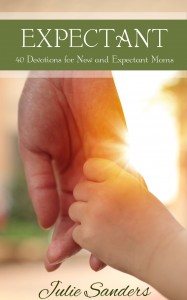 I'm so excited to share that my friend and fellow MomInitiative writer, Julie Sanders, has a new book out:  EXPECTANT: 40 Devotions for New and Expectant Moms!

Today, for Mom-Monday, Julie is spending some time here sharing a little about the book, her heart, and some of her experiences with motherhood.
Enjoy! (And don't forget to link up below, and head over to Julie's site and also The Mom Initiative more more mom-spiration today!)
Q&A with Author Julie Sanders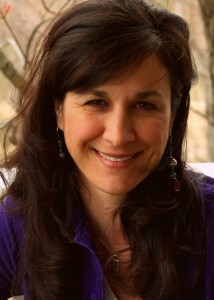 Q: Tell us what we can expect from EXPECTANT.
A: EXPECTANT is a collection of 40 devotions for new and expectant moms that uses transparent stories and biblical truth to offer hope and wisdom to women transitioning into motherhood. If you have dreams and hopes of what mothering will be, your heart is already Expectant.
Women enter motherhood in a variety of ways, so EXPECTANT shares encouragement for every mom as she grows into being a mother. That may mean she grows a pregnant belly or a home study for adoption, but she will grow. By talking about real issues like changes in your body, your marriage, your work, and your schedule, EXPECTANT helps new moms think through necessary transitions to find hope and confidence right there on the changing table or playground.
Each journey into motherhood is unique, but every mother's heart is expectant.
Q: How is motherhood different than you expected?
A: I knew I would love our children, but I never imagined how much I would enjoy our children. Every season has been amazing, but moving through the changes of childhood, along with the accidents and surprises, has kept me prayerful. Being a mom is great for your prayer life!
Being a mom has stretched me more personally than I ever expected. God uses motherhood to expose my weaknesses, my failures, and my sin. While I've been watching our kids grow, God has been growing my heart and life.

Q: What was most difficult for you during the "young years?" How did you grow as a mother?
When I delivered our first baby, it was quite a finale to our pregnancy! Nothing happened the way we anticipated. I was left with fear and disappointment, and it took a long time for me to feel whole again. Feeling fragile was not only hard, it wasn't what I expected.

I always wanted to have children, but I also loved being a teacher. Making a transition to spending the day with the baby at home was not as easy as I thought it would be, and before long I found myself over-committed and worn out. I was challenged to take a close look at where I found my identity and where I placed my trust. Motherhood turned out to be as much about growing me as growing our children.

To read more and to purchase your copy for $4.99 on Kindle,  stop by the EXPECTANT page! I've read this book, and I loved it. Julie talks candidly and openly about things like a mom's changing body and relationships, and she also provides practical wisdom for everyday living–from nutrition, to getting on a schedule, to reading with your kids. Julie's encouragement, honesty about her own parenting journey, and uplifting words, will inspire expectant moms everywhere!
Thanks for stopping by for Mom-Monday – a day for mom-stories, tips, articles and inspiration!
To join in, all you have to do is add your URL to the link list below and put my button anywhere on your site. It's as simple as that; no post necessary. Just an easy way for moms to connect with other moms!


LOOKING FOR MORE MOM-INSPIRATION TODAY? STOP BY THE MOM INITIATIVE TO LINK UP AND DISCOVER MORE INSPIRING AND ENCOURAGING MOM-POSTS!