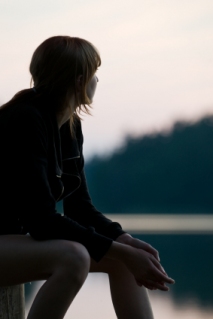 The girl in the mirror…
Today, for Mom-Monday, I'm sharing a previous post with a question I got from a reader about eating disorders, as well as some resources, in the hope that it might help if you or someone in your family is struggling…
The Girl in the Mirror
As I mentioned in my Not Perfect post, this topic has been on my heart a lot lately for a variety of reasons. And while I don't have all the answers, I do know from my own journey that there's hope.
Dear Genny,
Your post over at (in)courage about GRACE was wonderful and encouraging. You made mention in that article about your journey through an eating disorder. That is why I am writing to you. My friend's daughter was recently diagnosed with anorexia and has been struggling with it for about a year. I am wondering if you can give me any advice on how to help in this situation. What was particularly helpful for you? How can I encourage this beautiful, mature, talented young woman who believes she is ugly, fat and good at nothing? She has such a hope and future to look forward to… how can we help her own that future and to see it with hope? Are there particular books or websites that you would recommend?
———-
I exchanged emails back and forth with this reader and found out more about the situation.
My heart ached for this young girl.
I was relieved to hear that she's in treatment and able to talk to others about what she's going through. I think that's one of the most important things. The secrecy and hiding that came with my struggle only made me feel worse, but having someone else–even just one person–know how I felt, helped.
I was also glad to hear that this girl has a support system… people to love her and accept her for who she is. The realization that I didn't have to be perfect was a big milestone for me.
Several factors helped me out of my struggle, but, honestly, the biggest one was when I turned to God for help. I tried to fix myself for a while (self-help stuff that didn't stick) then finally said a desperate prayer that became my starting point. Everything wasn't instantly rosy, but, slowly, I began to understand the truths I was discovering as I dug into my faith–that God's love is unconditional and more powerful and comforting than I could ever imagine. (Before that, I sort of pictured Him as some distant giant watching from the sky, shaking His head in disappointment whenever I did something wrong).
It took time, and there's more to my story, but that's where my healing began.
Eating disorders are complicated, they happen for different reasons, and they affect people in different ways. While I don't pretend to know what the young girl mentioned in the email above feels or thinks, I do understand her struggle in some way.
And if you've ever been that girl in the mirror–whether you overeat or try to starve yourself or just aren't comfortable in your own skin–you probably do too.
Eating disorders are real and shouldn't be treated lightly or as a phase.  According to ANAD (National Association of Anorexia Nervosa and Associated Disorders):
-up to 24 million people of all ages and genders suffer from an eating disorder in the U.S.
-86% of people report the onset of an eating disorder by the age of 20
-43% report the onset between the ages of 16 – 20, which is even more reason that parents especially should be aware of the signs and symptoms.
In addition, as many as 52% of eating disorder sufferers may have EDNOS (Eating Disorder Not Otherwise Specified – those who cross over into behaviors of eating disorders, but don't meet the exact specifications of one in particular). Some studies have shown this to have the highest death rates of any other category of eating disorder. In fact, EDNOS (which is where I fell) is an especially difficult disorder because it can so easily fly under the radar. When I first began to open up to others about the struggle I went through during those years in college, some of my friends had no idea, even though I saw them often during that time. With EDNOS, everything might look fine on the outside, but in reality, on the inside, it's not.
(To find out more about EDNOS, visit Finding Balance, which focuses primarily on this
disorder.)
If you aren't sure if you or someone you love might be suffering from an eating disorder, here are some common signs:
-Obsession with calories and fat content of foods.
-Unusual food rituals.
-Self-defeating statements after eating.
-Mood swings, depression, fatigue.
-Dramatic weight loss in a relatively short period of time.
-Wearing big or baggy clothes or dressing in layers to hide body shape and/or weight loss.
-Obsession with weight and complaining of weight problems (even if "average" weight or thin).
-Binging and purging.
-Isolation.
*These are just some of the symptoms listed at Something Fishy Eating Disorder Website. To read more, visit the site.
*You can also read this article over at Mamapedia, 14 Signs that Your Child or Teen Might Have an Eating Disorder.
In addition to counseling, therapy, and support groups that can play an important role in recovery, here are a few websites and books I'd recommend if you or someone you know is struggling:
Websites:
Eating Disorder Referral Website
National Eating Disorder Association (Hot line 800-931-2237)
ANAD (National Association of Anorexia Nervosa and Associated Disorders)
Books:
-Nancy Alcorn's Starved and Beyond Starved (excellent resources for those struggling, as well as the family members of those struggling)
-Natalie Grant's The Real Me
-Jena Morrow's Hollow: An Unpolished Tale (This book resonated with me on so many levels. It's a heartfelt, cautionary tale filled with honesty and hope.)
If you have an eating disorder, please know that you are not alone. I encourage you to reach out to someone you trust.
I love what it says on ANAD's general information page (packed with information) that it is, "entirely possible to FULLY recover from an eating disorder."
What about you? Has an eating disorder affected your life in some way? Have you ever struggled with body image issues? Take a minute and share. You never know how your words can touch a life, or help heal a heart…
Thanks for stopping by for Mom-Monday – a day for mom-stories, tips, articles and inspiration!
To join in, all you have to do is add your URL to the link list below and put my button anywhere on your site. It's as simple as that; no post necessary. Just an easy way for moms to connect with other moms!
<center><a href="https://www.mycup2yours.com/"><img src="https://i601.photobucket.com/albums/tt94/memoriesbydesign/My%20Cup%202%20Yours/Mom-MondaysButton3.png"/></a></center></td>