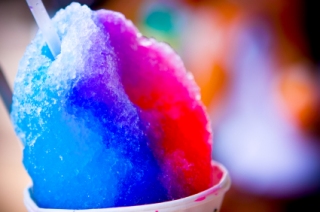 Praying for snow cones…
My daughter and I pulled up to the pool where she practices for swim team every day. 
She opened the car door to get out.
"I hope the snow cone truck is here after practice," she said. (A local snow cone company had been parking their truck near the pool most days.)
"I hope so too," I told her.
"Pray for it to be here, okay Mommy?" She smiled and got out of the car.
"I will," I said as she started to close the door.
But, then, instead of walking away, she suddenly hopped back in the front seat, bowed her head, and folded her hands.
"Pray now," she said.
And so we did.
Right there in the parking lot, with the car running, my teenage daughter and I prayed for that snow cone truck to come after practice.
When we were done, she got out of the car and ran off to the pool.
And I drove away with a huge smile on my face.
I loved the way she wanted to pray right then.
I loved her childlike faith and the way she wanted to take even a small desire like a snow cone to the throne of the Maker of the Universe. I loved her acceptance and expectation of God's involvement in every detail of her life.
And I realized that I need to be more like that.
Sometimes I find myself only praying for the "big" things… that my friend's dad doesn't have cancer, that my friend's husband who got laid off finds a job, that a woman I know who is going through chemo heals completely, for surgeries, and broken families, and children who need homes…
But God cares about the little things too. He cares about the details, and he doesn't want us to hold back from talking to Him just because we think our requests aren't important enough, or because we might feel selfish for asking.
He is God, yes… yet He's our Friend and Counselor who cares about even the tiniest details of our lives. (Even when we don't know Him, He knows us!) He knows the number of hairs on our head. He collects our tears in a bottle. And He wants to be involved in every aspect of our lives, big and small.
Nothing is too insignificant for Him.
He cares.
And he doesn't want us to wait to ask Him either. Like my daughter did that day in the car, He wants us to involve Him now. To seek him now. To pray now. Even if it that prayer is for something like a snow cone.
Oh, and in case you're wondering, the truck wasn't there after practice that day. But even though my daughter was momentarily disappointed, I loved how she responded…
"Well let's pray really hard tonight for it to be there tomorrow, okay?"
So that night we did.
And the next day, it was. :)
*published originally over at  In(Courage).
Thanks for stopping by for Mom-Monday – a day for mom-stories, tips, articles and inspiration!
To join in, all you have to do is add your URL to the link list below and put my button anywhere on your site. It's as simple as that; no post necessary. Just an easy way for moms to connect with other moms!
<center><a href="https://www.mycup2yours.com/"><img src="https://i601.photobucket.com/albums
/tt94/memoriesbydesign/My%20Cup%202%20Yours/Mom-MondaysButton3.png"/></a></center></td>