He Heard Hannah
*There's a giveaway at the end of this, so don't leave without entering to win!
When I first heard from Lynnette Kraft (she's a friend of my friend Joanne Kraft) and learned about her book and the story behind it, I was taken aback. Here was a woman—a beautiful, vivacious woman who seemed so filled with hope and life—and yet she had suffered the loss of three children, something unimaginable to me. I visited her beautiful blog and was immediately pulled in. I couldn't wait to read her book: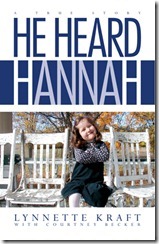 In He Heard Hannah, Lynnette tells the amazing true story of how the death of her six-year-old daughter Anna changed her life and the life of the 911 dispatcher who took the call the morning Anna passed away.
Lynnette and the dispatcher, Courtney Becker, share the story in alternating chapters, and while it is a story that broke my heart, it also filled me with hope. To read about Lynette's face-to-face encounter with such tragedy and loss (and it wasn't the first time she experienced the loss of a child) was hard, but I can honestly say this book gave me hope that I will tuck away in my heart forever.
The questions Lynette grappled with after her daughter died, and the sheer loss she and her family experienced, pierced my heart: How can God allow a child to die? Where is He in the middle of tragedy? And Courtney's honesty about what he struggled with as a result of this tragedy too—doubt, sadness, depression—opened my eyes to how situations affect all people involved, in ways we sometimes can't imagine or guess.
Yet in spite of the pain and grief that came from the loss of sweet Anna, Lynette's faith remained, and Courtney's eyes and heart were opened for the first time to the possibility and hope of a loving God.
As I read this story, looking for answers to the same questions Lynette was asking, and trying to imaging how I would feel if I had been in Lynette's or Courtney's shoes, I wondered if I could handle such a tragedy. But I was so comforted by the evidence in both Lynnette's and Courtney's stories that, even in the midst of loss and doubt, God is there. He is involved. He is working. He is saving. And He is loving.
He Heard Hannah is a story about death, but it is also a story about life.
It is a story about loss, but it is also  beautiful story about miracles and beauty in the ashes.
Lynette's words are an encouragement to everyone, whether you've experienced loss or not. And her faith in the midst of pain is a strong reminder that there is more to life than what we see and experience in the here and now, and that death is not the end. Even in her journey of writing and blogging (that she also shares in the book), and in Courtney's struggle with emptiness and restlessness, it is clear how God is involved in the details of our lives, every step of the way.
Thank you Lynette (and Courtney) for sharing your heart, your family, your faith, and your inspiring story. This book was such an encouragement to me and I know it will be for so many others!
To enter to win a free copy of He Heard Hannah, leave a comment on this post before 4-18-12. I'll be drawing a winner next week!
More about Lynette: She adores her husband, cherishes her children and loves her life! She has grieved the death of three of her children and credits the victory of her healing to Jesus Christ. She is passionate about sharing restored joy and enduring hope with those who need it. God has proven to her that when life brings uninvited trials and heartaches, He always has a perfect plan and divine purpose. Lynnette blogs at www.lynnettekraft.com where she encourages readers to live exuberant lives and continue walking with God, no matter what the circumstances.
Social Network Links:
Lynnette's Twitter: www.twitter.com/lynnettekraft
Lynnette's Facebook: www.facebook.com/lynnettekraft-author
Courtney's Facebook: https://www.facebook.com/CourtneyBeckerHeHeardHannah
Comfort Publishing Facebook: https://www.facebook.com/comfortpublishing
You can buy Lynnette's book here.