On being a mom and a gardener
For Mother's Day this year, my son gave me a hand-painted ceramic pot with a fabric flower inside it.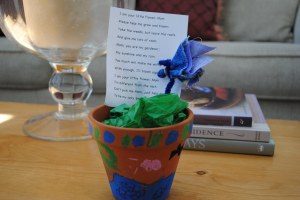 There was a poem, too: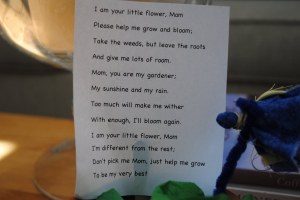 It was the perfect gift for me because I don't have a green thumb. 
But after reading the poem again the other day, I realized that, even though I may not have much success keeping plants and flowers alive, I'm still a gardener.
I loved the reminder that my kids can be fragile and delicate,
like flowers.
And that it's important to nurture them,
pick the weeds,
protect their roots,
give them room to grow,
and appreciate their uniqueness.
And when I do all of that,
what I'm really doing…
is helping them to bloom.