And I realized all over again how fast time flies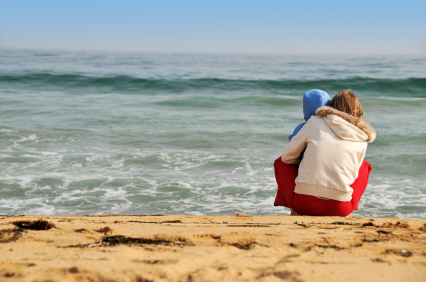 Life is short. Time flies. Enjoy the reminder below… and live more fully, right where you're at! (Resources and a book to help you do that at the end of the post – updated 2018.)
One minute you have a baby.
And the next minute, you're getting ready to send her off to kindergarten. Or middle school. Or college…
It's crazy how fast our kids grow up, but they do.
It's crazy how fast time flies.
But it does.
And those little ones of ours have birthday after birthday, and the demands for diaper changes, bottles and constant attention go away.
But so do the moments of holding them in your arms and rocking them to sleep. Of seeing them take their first steps, and hearing them say, "Mama" for the first time.
So while you're waiting for those little ones to get older, go hug them.
And rock them.
And take plenty of pictures and videos.
Savor every moment.
Notice the time — the time that's passing.
Last Thursday, I was at a MOPS meeting, and I was sitting next to a mom and her little four-month-old daughter. The baby was as sweet as ever–smiling, pulling on her bib, looking up at her mama, then around the room with wide eyes.
When she started to get a little restless, I offered to take her and walk her around the room so the mom could relax and listen to the guest speaker.
It had been a while since I'd held a little one like that.
I'd forgotten how tiny hands and feet can be. It seems like just yesterday my eight-year-old and ten-year-old were babies, too.
Just yesterday I got to marvel at each new thing they did–their first smiles, their first words, their first steps. There were nights rocking them to sleep, singing, praying, snuggling… my eyes stinging with tears from the overwhelming love I felt.
I remember feeling scared, too, hoping I'd be a good mom. There were questions and uncertainties and "what ifs" that I worried about.
And of course there were temper tantrums and sleepless nights, and plenty of days I thought I'd never get a minute to myself.
When you have kids, everyone always tells you to enjoy each moment because time flies. And even though it sounds cliche', the more time that passes, the more I see that it's true.
So if you're in that place of feeling frustrated or overwhelmed by the responsibilities of motherhood, if you're exhausted from toddlers constantly tugging at your legs, or if you're counting the days until your babies get older so they can be more self sufficient, be encouraged…
Because time does fly.
It really does. :)
(To read more articles stories and articles, pick up a copy of my book Finding Mommy Bliss or click on encouragement, parenting or inspiration on the sidebar of my blog page. And to view speaking videos on making the most of life and parenting, see my speaking page.)