This Boring Job
My daughter is an organizer.
Like me.
We love to clean out drawers and rearrange things.
So when she told me yesterday that she wanted to clean out our gift closet (where we keep wrapping paper, gift bags, bows, etc.), I was thrilled.
I thought it'd be a great little project.
Until she took the bins out of the closet and emptied them onto the family room floor…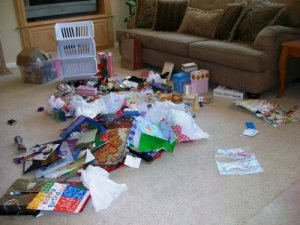 (I don't even know how all that stuff fit into those white bins in the background, but it did.)
"This is the way I clean," she said proudly.
"Well, I hope so, because I'm not picking that up," I told her.
An hour later, she was still sitting in the middle of the pile, tired of playing with bows and ribbons and gift accessories.
Tired of organizing.
And I knew what was coming…
"Mommy?"
"Hmm?"
"Can you help me clean this up?"
When I told her no, she decided to make the best of the situation. She danced around, tossing things into the bins, sorting and categorizing, and singing her own song to the tune of Julianne Hough's My Hallelujah Song…
"This job… is way… too boring… foooor… meee. Too boring. Fooor… meeee…
I can't believe… I am stuck…doing this… boring jooooob…
Doing this… boring jooooob…"
Thirty minutes later, only half the room was clean.
I shook my head, exasperated, and looked at the piles. "That is seriously…"
And she finished my sentence… "the best mess ever!"
Then she did a curtsy. :)