And then she said, I think I'm falling in love with rodents
The other day, my daughter and I went to the pet store to get some food for the mice. While we were there, we made our normal rounds, stopping by to say hi to the parakeets, the rats, the hamsters, the chinchilla, the snakes, the lizards, the turtles, the fish, and, yes, even the tarantula.
After we got the food, she turned to me and asked, "When our mice are gone, do you think I should get a rat or a bird?"
"I'm not so sure we'll get anything," I told her. With all the animal adventures we've had lately, two cats, a fish, and two mice are enough for me, thankyouverymuch.
She looked at me with sad eyes.
"But Mommy, we have to get more pets when Spot and Blackberry are gone because my heart will be broken."
(How do you say no to that?)
"We'll just have to wait and see." I hoped that would satisfy her.
She smiled. And then she looked at me and said, "I think I'm falling in love with rodents."
"Rodents?"
She nodded. "When I saw those rats' faces, I just fell in love with them. Did you see their tails and how long and cute they were?"
Let me just stop here for a second. I know this may give some of you the creeps, but I had pet rats growing up and I loved them.
However.
When I was a kid, my dad built a custom cage for the rats and we kept them outside.
I don't know how to build custom cages. Nor does my husband. And besides, somehow rats don't look as cute to me anymore as they used to.
"If I get a rat, I'm going to get a boy rat…" my daughter continued.
Let me stop again. Nothing against boy rats, but we got a male mouse before we got the female ones, and it didn't quite work out. On account of the fact that he was very focused on marking his territory inside his cage. Every square inch. Every five seconds. It wasn't pleasant.
"And I'm going to name my boy rat Tigger…"
I listened to my daughter and thought about how, if we got a rat, we'd have to get a bigger cage, and we'd have bigger messes, and my son would probably end up wanting a rat, too…
And that's when I snapped to my senses.
"If we get anything after the mice, it's probably going to be more mice, Honey."
She looked at me with sad eyes again. "But, why?"
"Because if we get a rat we'd have to get a whole new cage and everything."
"Say house, Mommy! Never say cage. They don't live in a cage. That's mean. They live in their house!"
And that's when I realized she really does love rodents.
But I guess I should be glad that at least rodents are small. Unlike this alpaca (I'm not kidding) that we saw going into the store when we came out: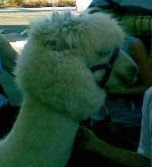 And now I'm holding my breath, hoping that seeing that didn't give my daughter any new pet ideas…