Swimming With Our Socks On
This week was our last week before school starts. Because our summer has been so busy, I really wanted these last few days to be laid back and fun.
And they have been…
As I write this, my son is conducting an experiment in my salad spinner, mixing shampoo with water and swirling it around. And he just informed me that adding a pen cap, a string, and a piece of plastic into the mix makes an extra-powerful tornado.
Hmm.
My daughter, on the other hand, instead of putting the dishes away from the dishwasher, just finished building this: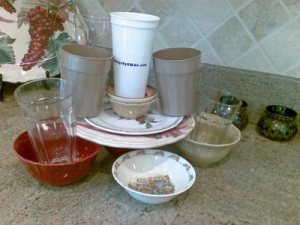 And that's pretty much how our week was, filled with one interesting art project…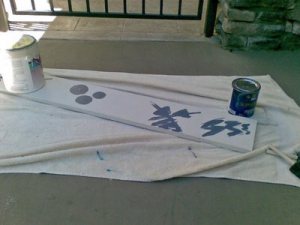 After another…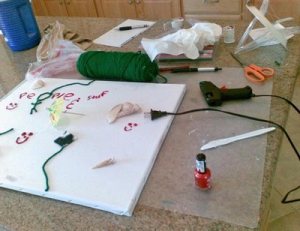 I cleaned out my daughter's room and moved her furniture around, too. And when she told me she wanted her bed at an angle almost in the middle of her room, I surprised myself and said… okay. It wasn't the plan I had—her bed nice and tidy against the wall—but it's cute. And she's thrilled, which is what really matters.
And then a couple of days ago, when the kids asked if they could swim in their socks, I surprised myself again…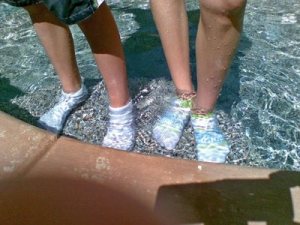 Hey, I even did a cannon-ball into the pool and got my hair wet. My son and daughter were so excited they practically drowned me. But to see their faces, and how happy they were, made the blow-drying-my-hair-all-over-again-in-the-middle-of-the-day worth it. (Which, by the way, isn't vanity. It's necessity. If you have hair that frizzes when it air-dries, you understand.)
It's been a fun and off-the-wall and messy week.
I did things that I don't normally do.
The house needs to be cleaned. And to be honest, I'm burnt-out on paint brushes and glue guns and projects.
But, you know what?
The week was as good for this scheduled, planned, to-do list nut as it was for my kids.
Probably even better.
Happy end-of-the-summer, everyone! :)