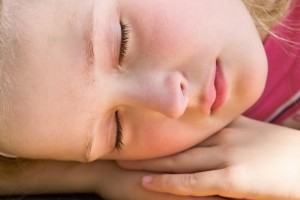 It was after 9:30 p.m. on a school night.
Mike was at a dinner meeting for work, my son had just fallen asleep, and I had a lot to do before the next day. We'd been at my daughter's play practice and had gotten home later than usual.
"Will you stay in my room for a while?" she asked as I tucked her in.
"Not tonight," I told her, thinking about everything I had to get done. "It's late. And you need to get to sleep." I leaned over and kissed her on the forehead.
She reached her arms around my neck and hugged me. "Please?"
I wavered, thinking about the dishes, the laundry, and the emails I needed to catch up on.
"Please?" she asked again.
"All right," I said, giving in, "but just for a minute."
I sat down on her bed.
She reached out and held my hand.
We didn't talk much.
She was tired and so was I.
Instead, we listened to the hum of her ceiling fan and the bubbling of her fish tank.
"Goodnight, Mommy," she said, yawning.
"Goodnight."
As I sat there, it hit me that she'll be in sixth grade–in middle school–next year.
And I don't know if she'll be asking me to stay in her room with her at night much longer.
I wished I hadn't told her no so quickly.
And I savored the moment, realizing that someday–someday probably too soon–these times together will be memories, and not something we do regularly.
One minute turned into two.
Then two turned into three.
I didn't want to leave.
I watched her eyes close and listened to the sound of her breathing as she fell asleep.
And I was more thankful than ever for that moment…
the moment I almost missed.
What about you? Do you ever say no too quickly? Have you had any memorable or fun times with your kids lately as a result of just saying yes? I'd love to hear about it.


___________
Giveaway winner! Congratulations to Barbie (selected by Random.org number generator), who won my giveaway for any product up to a $45.00 value at AllChildrensFurniture.com. Barbie is a mom of four and I hope she has fun finding something for her kids!
Thanks to everyone who joined in and left comments for the giveaway. I loved reading about you all so much that I've decided to make a link to your introductions in my sidebar. Check it out. It's called "New Readers–Introduce Yourself". Thanks to Jennifer at Conversion Diary for the idea. If you haven't told me (and others) about yourself, be sure to click on the link and leave a comment to share. And if you want to add more info, comment again!
___________
If you haven't already, leave your URL in the link list below, so other moms can stop by your site and say hi on Mom-Mondays. It's a simple way for moms to come alongside other moms!