Not long ago, Joanne from Blessed and I realized we live near each other.
We had met through our blogs, so discovering we were both in the same area was fun and coincidental.
Needless to say, we decided we had to get together.
We met for coffee (of course) and had a great time talking about writing and blogging and family. She's so much fun, and I felt like I'd known her for a long time. Here's a picture of us at Starbucks that morning: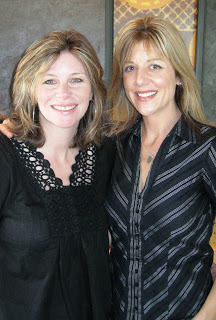 It's funny how sometimes people come into your life, or things happen, and you know it's meant to be.
Like the position I recently got at a publishing company. If I hadn't run into somebody I hadn't seen in years (at a different Starbucks a few weeks ago), the opportunity wouldn't have presented itself. But I'm glad it did, and I'm really excited to be embarking on some new activities.
And though I'll be working in my new role a couple of days a week, and balancing that with my other writing, you're not getting rid of me. :)
I'll still be posting, and I'll be launching something around here soon that I'm really excited about.
So please keep coming back, and bear with me as I transition. I love your comments and the sense of community you've all helped to build, and I know that's something that hasn't happened by chance… it's happened by you taking the time to stop by, read, and share a little bit of yourself.
And I appreciate that more than I can say.