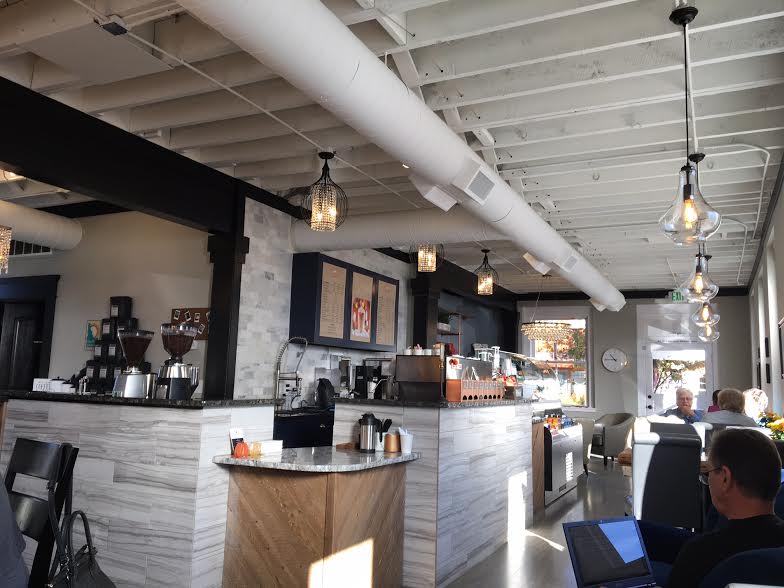 The latest scoop: a surprise for you TODAY, coffee shops, a magazine article, and the best prizes ever!
Pam, Kirsten and I have been planning the next big LIFT event and we've been having some amazing conversations with women about content you'd like to see: things like living out your purpose, recognizing your strengths, not letting fear or negative beliefs hold you back, persevering through hard times, and coming alongside each other in real friendships. We've been digging into some awesome books together (check out Shauna Niequist's Present Over Perfect ) and seeing again and again the amazing things that happen when women connect in real and authentic community.
It's been an exciting time of listening and planning (and coffee, of course) as we've been putting together details for January 25th. But before I share some of the inside scoop (and before I announce an exciting Cyber Monday deal for you!), here are a few photos, for fun…
The three of us meeting at one of my favorite coffee shops – The Brim, in downtown Eagle, ID: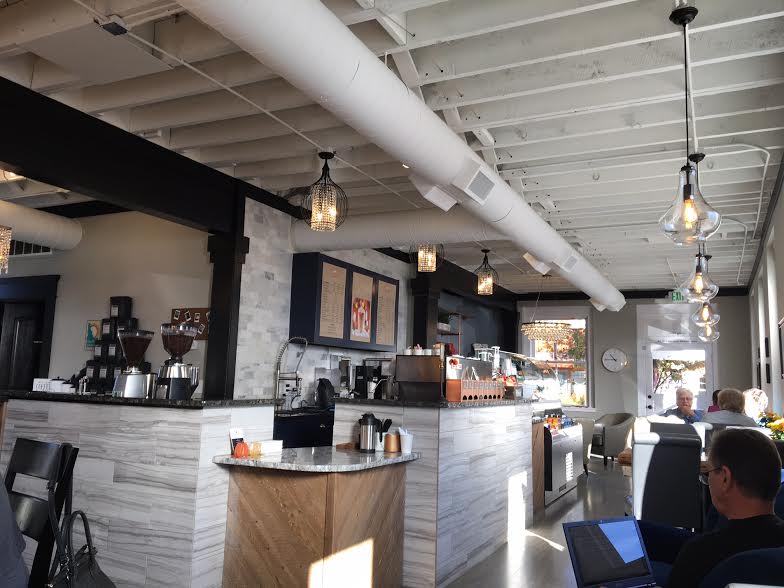 (Isn't it beautiful?!)
And here's a snapshot of Pam's recent magazine article (in which she tells the story of conquering her worst fear on her summit trip in Washington). I love how nothing on that caution sign held her back!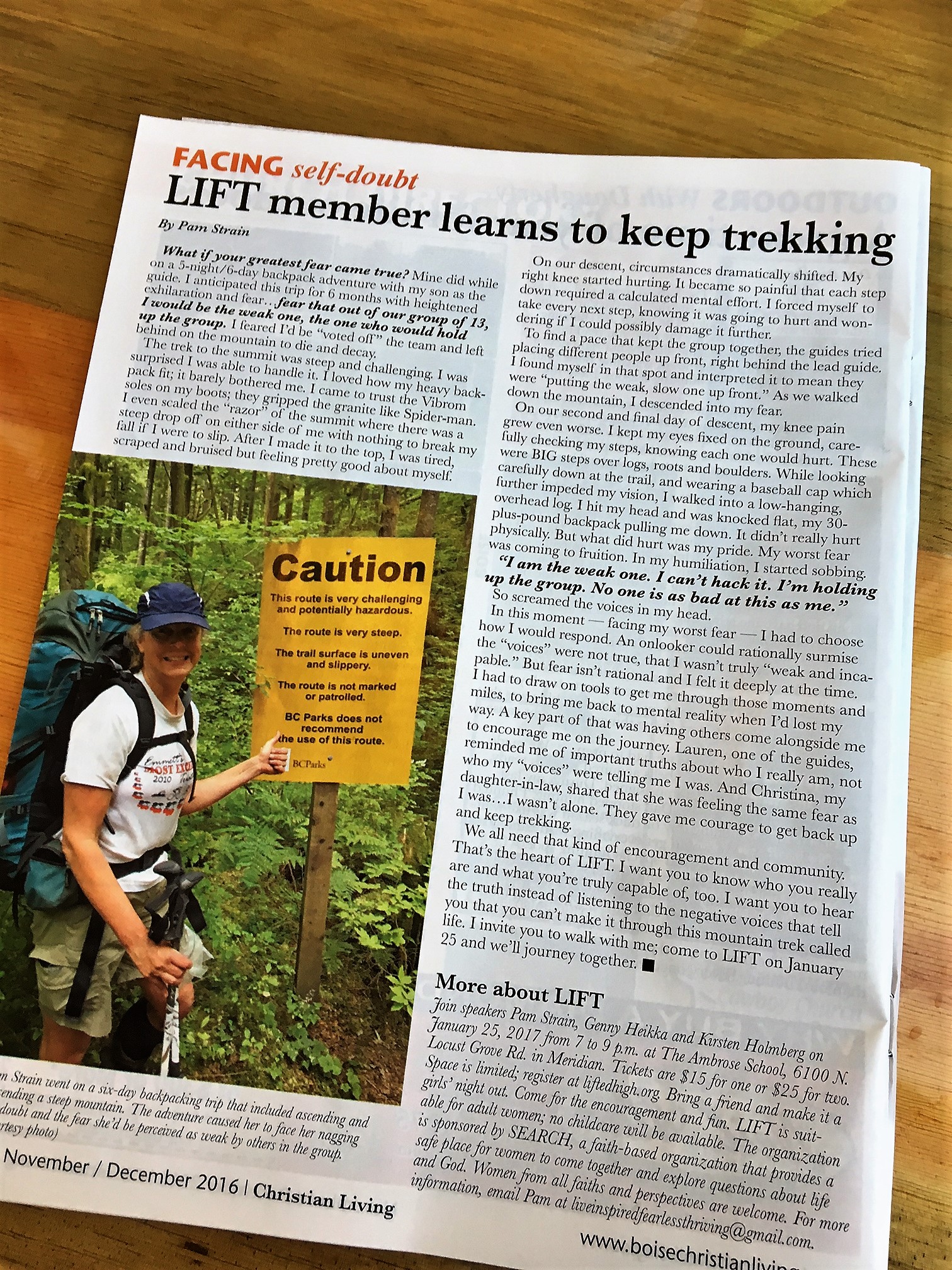 I also love how her story has reminded so many women to listen to the truth of who they are instead of the negative voices we tell ourselves sometimes. Pam's biggest fear led her to community, not quitting, and that's a lesson we can all benefit from.
It's that community and encouragement that is the heart behind LIFT and we are super excited the date is approaching. Here's the scoop on the latest happenings:
–First, a surprise for YOU:  
We want you to be able to take advantage of Cyber Monday and get your LIFT tickets for the best deal we've offered so far. Get your "Bring a Friend" ticket for just $7.50 each when you enter the code THRIVING to your order (normally $25.00 for two!).
*Discount code good only on Monday, November 28th.
-Second, one of your favorite things from last year's event is shaping up to be an exciting part of this year's event too: PRIZES AND GIVEAWAYS! We've been contacted by some amazing, talented women who have beautiful gifts we are going to be giving away to some lucky LIFT attendees the night of the event. Just like last year, we can't wait to surprise some of you with awesome gift baskets, great books, gorgeous home decorations, and other fun stuff!
–Third, if you haven't heard, we have a NEW venue this year, and it's amazing. The Ambrose School is beautiful, has plenty of space (last year was fun, but packed!), and is in a great location in the Treasure Valley – easy to get to no matter what direction you're coming from!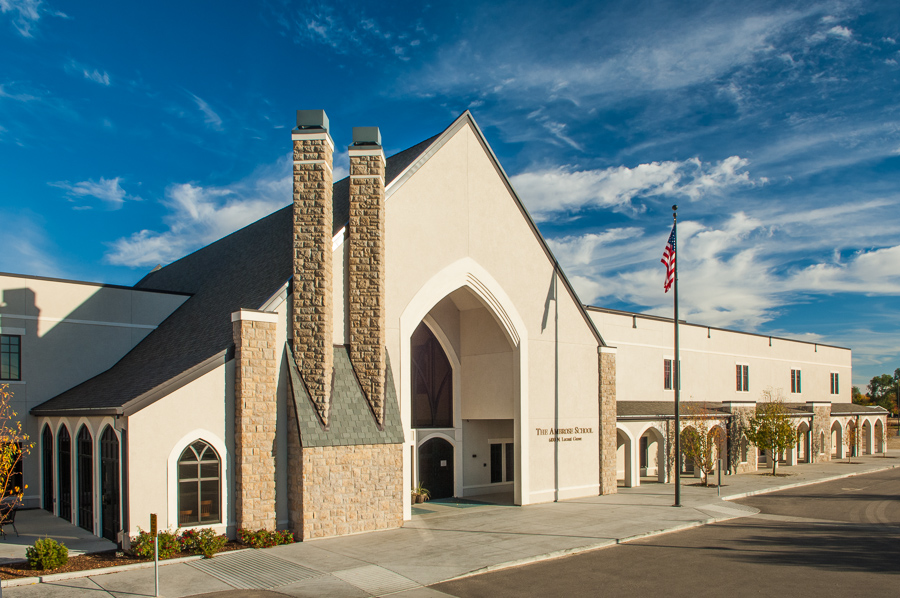 We've been talking about decor for the night and are excited about the vision (think beautiful and cozy). It'll be January in Idaho–cold and probably snowy–and we can't wait to welcome you and your friends to a warm and inviting night of fun and inspiration.
I'll fill you in on more details as the event gets closer, but for now be sure to save your spot now before seats fill up. We can't wait to see you!