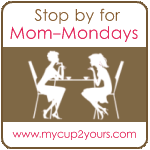 Your favorite mom stories (and a free parenting newsletter too)
Happy Mom-Monday, everyone! I hope you had a great weekend. I was looking through my archives today and realized this will be the 148th Mom-Monday post I've written.
148.
That's a lot of Mondays, a lot of moms, and a lot of memories. I found myself scrolling through previous posts and comments… reminiscing, laughing, and remembering.
It made me pause and just soak in the joy of being a mom.
And it made me want to thank you. Thank you for sharing this journey of motherhood with me. I look back at when I started MyCup2Yours, back in 2008, and I realize how much I've learned about being a mom.
I'm still learning.
And one thing I know for sure is that I'm a much at it with others by my side.
Others like you.
So today I thought we'd spend some time together, just sharing and enjoying each other's company. I've posted some of your favorite stories below and I've also posted the Mom-Monday link list at the bottom of this post so you can stop by and visit other moms' blogs and websites. Feel free to add my button to your site and your URL to the list while you're here!
So pull up a chair, pour yourself a cup of coffee, and stay a while. (Oh, and I'm sending out the first issue of my free parenting newsletter next week, so be sure to visit the link here in my sidebar and sign up!) 
Your Favorite Mom Stories
Maybe the most important thing that I will ever write
Little Bits and Pieces of Happiness…
This beautiful end of summer with my little girl
The mom and her daughter in the dressing room…
And Then You Realize They are Pedaling on Their Own…
Creating Quality Time by Ignoring the Clock
Five Reasons Why Whiteboards are the Greatest Parenting Tool Ever
Considering a Mouse for a Pet?
—————————–
Thanks for stopping by for Mom-Monday – a day for mom-stories, tips, articles and inspiration!
To join in, all you have to do is add your URL to the link list below and put my button anywhere on your site. It's as simple as that; no post necessary. Just an easy way for moms to connect with other moms!
<center><a href="https://www.mycup2yours.com/"><img src="https://i601.photobucket.com/albums
/tt94/memoriesbydesign/My%20Cup%202%20Yours/Mom-MondaysButton3.png"/></a></center></td>