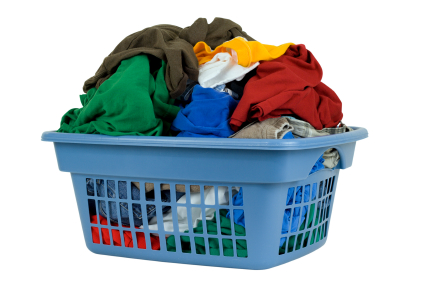 Are you up to your ears in laundry?
Believe me, I know how you feel.
I guarantee, after you read this, it won't seem so bad.
Doing laundry may even start to look easy.
Almost fun.
I'm serious.
One of the stops Mike and I made during our time without kids last weekend was a museum at an old winery in California.
In the museum, there was a washtub with a note next to it. It was a re-typed list from a mother to a daughter written sometime around the turn of the twentieth century, describing how to do the family laundry.
All in 10 simple steps.
Really.
Read on…
Wash on Monday:
1. Build a fire in the backyard to heat kettle of rainwater.
2. Set tub so smoke will not blow in your eyes if wind is present.
3. Shave a whole cake of lye soap in the boiling water.
4. Sort clothes in three piles—one of white clothes, one of colored, and one of rags and britches.
5. Stir flour in cold water until smooth, then thin down with boiling water to make starch.
6. Rub dirty spots on the board, then boil them. Rub colored clothes, but do not boil. Take white things out of kettle with broom handle, then rinse, blue, and starch.
7. Hang clothes on line except tea towels, which should be spread on the grass. Hang old rags on the fence.
8. Pour rinse water in flower beds.
9. Scrub privy seat and floor with soapy water.
10. Turn tubs upside down. Put on a clean dress, comb hair. Make a cup of tea to drink while you sit and rest a spell, and count your blessings.
I don't know about you, but after reading that, I'm counting my blessings for sure!
* list used with permission from the Sobon Estate