Need A Lift, Anyone?
Setting and reaching goals can be challenging.
Whether you're trying to achieve career success, lose weight, or become more organized, sometimes it can be hard to make things happen.
Believe me, there've been many times amidst the rejection letters that I've questioned my own writing goals.
But in these moments of doubt and frustration, the encouragement of others has often helped me to stay the course.
Encouragement like this sweet note my daughter gave me a couple of years ago…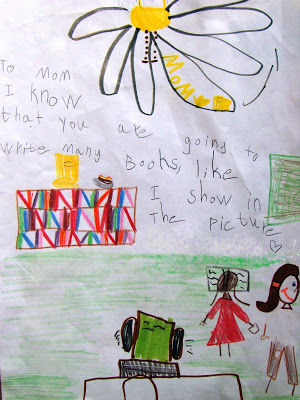 And encouragement like the card I got from my mother-in-law, where she wrote, "We believe in you and know that someday your stories will be published." I still keep it on my desk next to my computer.
Sometimes, no matter how strong our resolve is, or how hard we work at reaching our goal, the end result still seems far away. And the process of getting there hard.
But when others come alongside and give us that extra push–that extra support–we're able to keep at it.
That card, or that phone call, or that reminder not to give up, can be just the thing that helps someone persevere.
And hang in there.
And maybe even realize their dream.
Because everyone needs a lift now and then.
And when we reach out and give a little encouragement, it can make all the difference in the world.