Helping women thrive and lead.
Founded by Genny to help women lead teams and lives of impact, Her Team Success comes alongside women to provide one-on-one coaching, leadership consulting and personal branding to help them reach their full potential and thrive.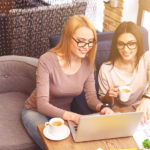 How?
Each woman–and each leader–is unique. Her Team Success partners with you or your team to understand which strategies will help you the most.
Need help with leadership development? I work with organizations to help:
develop leaders from within
strengthen leadership skills
improve team effectiveness
promote women's development and advancement
maximize performance
Need help standing out? I'll coach you one-on-one to help you:
build your personal brand
effectively communicate your value
create a professional development plan
apply your unique strengths to make an impact
develop skills for career advancement
take steps toward personal growth
conquer the things that hold you back
Want to energize and inspire your team? My keynotes and workshops are customized to meet your needs so your leaders:
feel like they are making a difference
recognize their unique value
love the work they do
actively pursue professional and personal growth
embrace change and challenges
strengthen relationships
implement practices that can transform teams
Want to be a woman of impact, leading a life of impact? Her Team Success has one goal in mind: to help you succeed. I'd love to work with you!
What women I've worked with have said:
"Genny is extremely motivating, knowledgeable, generous and real. She went above and beyond expectations and I am honored and thankful to have worked with her. She really takes the time to get to know you – fully investing herself to help you meet your goals." 
-Valerie F.
"I have worked with Genny on several projects and she is a huge asset. She is well-educated and well-read on the topic of leadership; she stays current on all that's out there and she leads out of selfless strength, authenticity, passion and encouragement. Genny's positive, 'glass half-full' outlook is inspiring, contagious and motivational. I find myself getting excited about anything that comes out of Genny's mouth!" –Pam Strain, Search Ministries
"Genny has a deep and sincere desire to see women flourish. Her delightful optimism, coupled with business savvy, chart the path to both individual and shared success. She's a skilled communicator, making her an ideal fit for igniting a new vision for the future and imparting the skills to get there." -Kirsten Holmberg, President and Founder of Platform Idaho and Idaho Speakers Bureau
"Genny is so transparent. I heard her speak at a businesswomen's networking event. She encouraged women to say yes, even if you're not 100% sure what that means. I have now been exploring my own life to discover if there is fear that is holding me back." -Shauna O'Donnell, Courage Worldwide   
"Many of our women thought this was our best meeting of the year and that they need to hear this talk every month. Genny's ability to relate to our situations touched everyone. Her talk was the highlight of our year." -Lisa Sietsema, Finance Coordinator
"Genny speaks from the heart, is real, relatable and authentic. Every woman in the room was able to connect with her story. We left feeling encouraged and inspired. Genny truly has a gift. We look forward to inviting her back in the near future!" -Allie Suydam, Foundations Coordinator at Bayside, Granite Bay, California